Srila Prabhupada translated over sixty volumes of classic Vedic scriptures (such as the Bhagavad Gita and the Srimad Bhagavatam) into the English language so that these become available to masses.
For their authority, depth and clarity, his books have won praise from professors at Universities like Harvard and Oxford.
His Bhagavad-Gita As-It-Is was published by MacMillan Publishers in 1968, followed by the unabridged edition in 1972 and is now available in over sixty languages around the world.
Other books by Srila Prabhupada are available in over eighty different languages.
Over 500 million books of his have been distributed to date.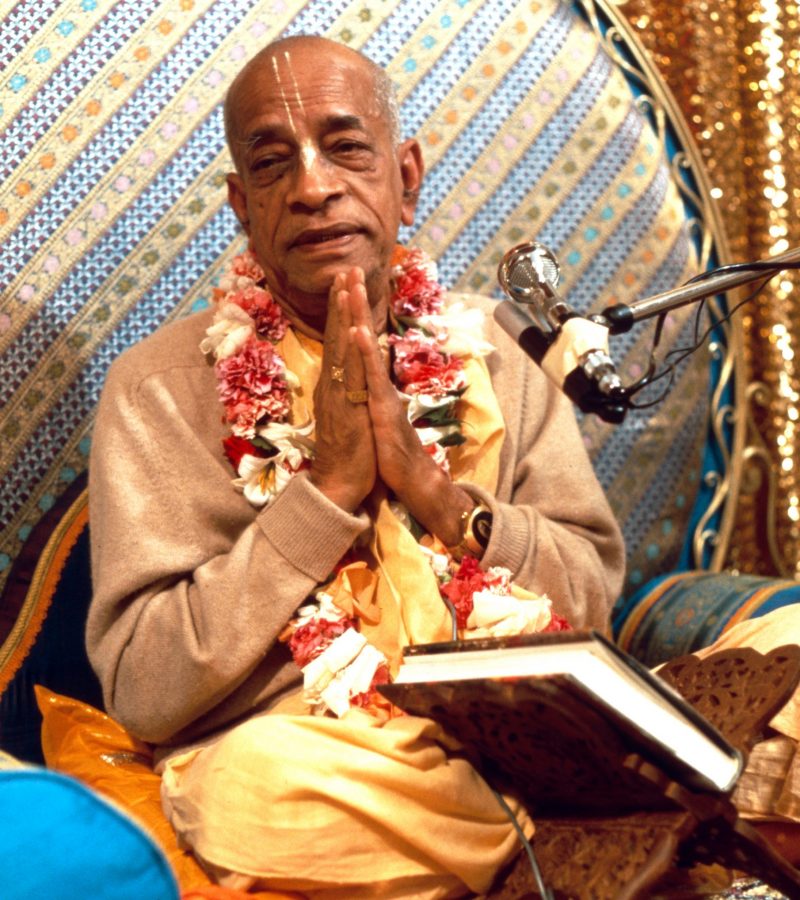 If you want to learn this Krishna consciousness movement, we have got enough books. You can scientifically and philosophically study.
Bhagavad Gita
of
India's
spiritual
wisdom
The Bhagavad-gita is the main source-book on yoga and a concise summary of India's Vedic wisdom. Yet remarkably, the setting for this best-known classic of spiritual literature is an ancient Indian battlefield.
The largest-selling edition of the Gita in the Western world, Bhagavad-gita As It Is is more than a book. It is alive with knowledge and devotion; thus it has the power to change your life for the better.
Bhagavad-gita is knowledge of five basic truths and the relationship of each truth to the other. The Gita lucidly explains the nature of consciousness, the self, and the universe. It is the essence of India's spiritual wisdom, the answers to questions posed by philosophers for centuries.
"When doubts haunt me, when disappointments stare me in the face, and I see not one ray of hope on the horizon, I turn to Bhagavad-Gita and find a verse to comfort me; and I immediately begin to smile in the midst of overwhelming sorrow. Those who meditate on Gita will derive fresh joy and new meanings from it every day" – Mahatma Gandhi
The Bhagwad-Gita is universally renowned as the jewel of India's spiritual wisdom. spoken by Lord Sri Krsna, the Supreme Personality of Godhead, to His intimate devotee Arjuna. the Gita's seven hundred concise verses provide a definitive guide to the science of self-realization.
His Divine Grace A.C.Bhakti-Vedanta Swami Prabhupada, the foremost Vedic scholar and teacher of recent times, represents an unbroken chain of fully self realized spiritual -masters beginning with Lord Krsna Himself. thus unlike other editions of Gita, this conveys Lord Krsna's profound message as it is- without the slightest taint of adulteration or personally motivated change.
"in the morning I bathe my intellect in the stupendous and cosmogonal philosophy of the Bhagavad-Gita, in comparison with which our modern and its literature seem puny and trivial." – HENRY DAVID THOREAU
Srimad Bhagavatam
Spiritual / Mantra Meditation
Yoga
Reincarnation
Cooking
Children Books
For complete list of books
Download PDF List of books
Making these Vaisnava texts available is one of Srila Prabhupada's greatest contributions. Apart from the masses, his books have also reached well into academic circles and have spurred academic interest in the Chaitanya tradition.
A person who is constantly engaged in reading (authorized Vedic) literature enunciating the cultivation of Vaisnava devotional service is always glorious in human society and certainly Lord Krishna becomes pleased with him.
(Nectar of Devotion 12)
IMPORTANT: All efforts will be made to supply your request at the earliest...subject to stock availability
For any books or upcoming book distribution event related inquiries, please email us or use this contact form
Help us reach those who are in the need
Opportunity for everyone to participate directly in the missionary activities of distributing Srila Prabhupada's books by sponsoring them to those who cannot afford it. We place donated books in locations where they are properly kept and read, such as Libraries, Hotels, some waiting rooms and other public areas.
Either you can distribute the books yourself to your friends, relatives, colleagues, etc. or inform us if you may prefer ISKCON Brampton to distribute them on your behalf.
* Leave us a note when (or after) you make a donation.