VEDIC EDUCATION & CULTURAL CENTER
Our Activities & Offerings
ISKCON Brampton offers a wide array of learning opportunities in the Peel Region for those interested in learning about Vedic Studies.
The Bhagavad-gita is the main source-book on yoga and a concise summary of India's Vedic wisdom. Yet remarkably, the setting for this best-known classic of spiritual literature is an ancient Indian battlefield.
The largest-selling edition of the Gita in the Western world, Bhagavad-gita As-It-Is is more than a book. It is alive with knowledge and devotion; thus it has the power to change your life for the better.
Bhagavad-gita is knowledge of five basic truths and the relationship of each truth to the other. The Gita lucidly explains the nature of consciousness, the self, and the universe. It is the essence of India's spiritual wisdom, the answers to questions posed by philosophers for centuries.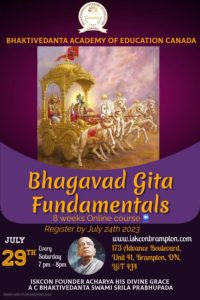 Hare Krishna Devotees, Bhaktivedanta Academy of Education Canada invites you to join this online course – Bhagavad Gita Fundamentals facilitated by HG Damodar Krishna Prabhu. This introductory course is a thematic overview of the philosophical basis of Bhakti as taught in the Bhagavad Gita. This 8 sessions course starts on July 29th 2023 at 7PM
Read More »