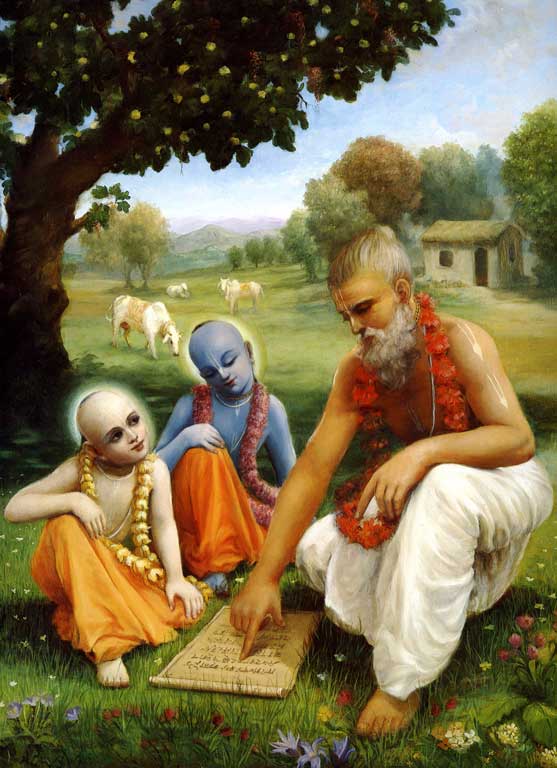 The aim of ISKCON Brampton Sunday School is to provide holistic education to children from ages 5-14 by inculcating Vedic knowledge, life-skills and application to the real world, so that they are able to build a life of character and integrity.
Our curriculum is based on the vedic books written by A.C. Bhaktivedanta Swami Prabhupada, the founder Acharya of ISKCON.
The lessons are taught in a fun-filled interactive way through presentations, stories, games, music, visual art, drama, dance, and projects that help children develop character and personality.
Our objective is for our children to lead a balanced life, taking care of their mind, body and soul with Shri Radha Giridhari in the centre. Kartika Mataji
March 2022
I came to the temple yesterday along with my family for Gaura Purnima festival and we had a such an amazing time. We became so emotional watching the children's skit depicting the past time of Lord Chaitanya Mahaprabhu🙏🏻 really enjoyed the association. My son is 16 months old and we are now hoping to get our child also enrolled for children's classes at Iskcon Brampton.​
| | |
| --- | --- |
| Activity | Timing |
| Classical Dance | 11:00a.m. – 12:00noon |
| Sloka Class | 1:00p.m. – 1:30p.m. |
| Vocal Music | 10:00a.m. – 3:00p.m. |
| Flute Class | 2:00p.m. – 3:00p.m. |
| Mrindanga Class | TBD (please contact us to check the latest schdule) |
* Timings and availability are subject to change. Please contact us at [email protected] for more info.