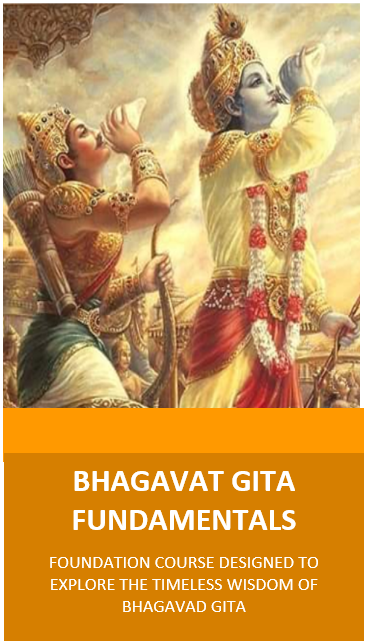 BHAGAVAD GITA FUNDAMENTALS
This introductory course is a thematic overview of the philosophical basis of Bhakti as taught in the Bhagavad Gita. Over the course of 8 weeks, participants will read directly from the text and explore topics such as the soul, self-realization, karma and reincarnation, aspects of Divinity, relationships with God and others, and both our spiritual and material natures.
There will be both instructive and interactive components for participants to ask questions, share reflections, fun exercises which will help attendees develop a line of thought.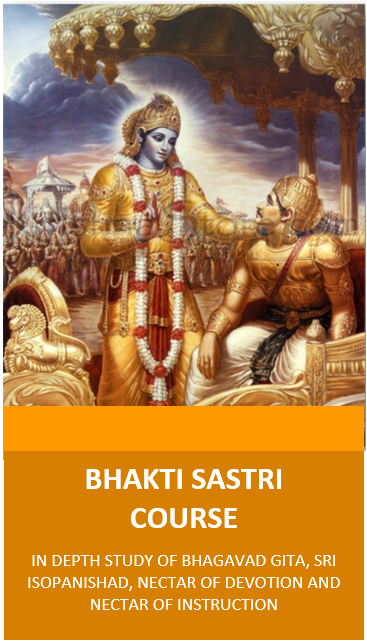 Bhakti-sastri is an essential course in Krsna consciousness that consists of in-depth study of four books: Bhagavad-gita, Nectar of Devotion, Nectar of Instruction & Sri Ishopanisad.
Srila Prabhupada conceived of the Bhakti-sastri course as a part of brahminical training. It is meant for devotees who wants to get a systematic understanding of Srila Prabhupada's books and thereby enhance both their knowledge and practice of Krsna consciousness and their ability to convey its message.
Course Requirements:
You must chant 16 rounds of Japa daily and follow the four regulative principles constantly for last 1 year.

You must be recommended by an ISKCON authority or a Bhakti Vriksha leader or a Mentor who knows you well, certifying that you have been engaged favorably in Krishna Consciousness and following proper sadhna.

You must be 18 years or above in age.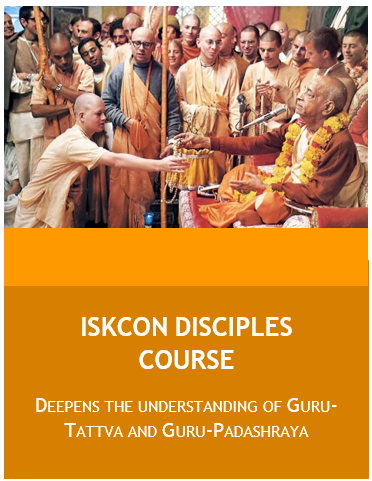 The ISKCON Disciples Course is a training program which deepens devotees understanding of Guru-Tattva and Guru-Padashraya within the multiple Guru environment of ISKCON.
Designed for new devotees preparing to take initiation in ISKCON, the course is also recommended for leaders, preachers, councillors and educators in ISKCON.

The course was developed under the direction of the "Guru Services Committee", with the combined efforts of leading educators in ISKCON. The course is based on the teachings of Srila Prabhupada and the current ISKCON Laws which establish a direct reference to the writings from the broader Gaudiya Vaishnava tradition.
What some of our previous participants have to say about our Seminars and Workshops…
The course conducted at BAEC has provided a wonderful opportunity to understand the importance of ISKCON's foundational principles in a safe and secure manner. While many dynamic discussions take place focusing on a multitude of topics, the course truly helped to deepen my understanding of Guru Tattva, Guru-Padashraya, the importance of maintaining a personalised relationship with Founder Acarya, Srila Prabhupada, whilst also benefiting within the functioning of a Multi Guru community. The course is a gentle yet encouraging reminder that devotee cooperation and association is of utmost importance when working towards enhancing our spirituality. I would highly recommend this course to anyone looking to progress on the spiritual path.​
First of all, I would like to thank all my teachers who taught me this Bhakti sastri Course. It's just by their mercy that I could enter deeper into the understanding of Srila Prabhupada's books. This study helped me to understand this great philosophy contained in Bhagavad Gita, Nectar of Devotion, Sri Isopanisad and Upadesamrta. The course at ISKCON Brampton helped me to reflect on my life as to where I stand in my spiritual life and the clarity to overcome the impediments in the progress of my spiritual life. It was very helpful to understand the philosophy , although I read these books earlier also , this time it was eye-opening.I could go more deep to understand mood and mission of srila prabhupada with the help of relevant slides , discussion etc.Different realizations from group of devotees was very helpful.I gained the habit of regular study which is really priceless. It was a wonderful experience studying Bhakti sastri course at ISKCON Brampton.
Hare Krishna! I'm doing the Bhakti Shastri course and now that it is almost coming to an end, I thought I should express my utmost gratitude to everyone in the BAEC team especially the teachers. This the first time you are conducting this course and you have worked really hard. The course is nicely set at a comfortable pace. You did an excellent job teaching us, which included very practical excerises and examples. This lead to many useful realizations for me to think and inculcate in my personal life so that I can truly dovetail Krishna into my life. The dedication of the teachers is really commendable. You take this seva so seriously and inspite of your busy grihasta lives, have made a big sacrifice preparing to teach us with so much clarity. Thankyou teachers for being understanding, considerate and accommodating when I had emergencies and mundane challenges. You helped us finish the course without compromising on the quality of education. I especially loved the Bhagavad Gita course which gave an in-depth understanding of what Krishna really spoke. The sessions are interactive , so never boring. It also exposed me to a wealth of knowledge from the perspective of other students and their wealth of experience. So I would highly recommend everyone to do the course even if you're not interested in becoming preachers or becoming scholars in spiritual studies, it is a sacrifice well done; because ultimately we are reading the books, doing Vani seva through which we are in the association of Sri Krishna and Prabhupad for extended hours. Personally, I felt that the thorough reading of Prabhupad's books has brought me closer to Prabhupad and I truly feel abundantly blessed by him at a time I was stagnating in my sadana. I also feel more confident in a small way to spread the message of Lord Krishna! So it's been a win win situation. Heartfelt gratitude to the teachers, wish you all the very best! HÀREKRISHNA.
Hare Krishna, I take this opportunity to express my heartfelt gratitude to all the facilitators of the Bhakti Shastri Course, conducted by Bhaktivedanta Academy of Education, Canada. It was indeed such a wonderful experience studying Srila Prabhupada's books under the guidance of senior and dedicated teachers. The Bhakti Sastri course organized by BAEC, gave me a platform to systematically learn and deeply understand the philosophy of Bhagavad Gita, Sri Isopanisad, Nectar of Instruction and Nectar of Devotion . It gave me a clear and overall vision of these books. This course has cleared a lot of philosophical points and I have developed a fervent desire to study Srila Prabhupada's books. The content of the course was great. It was very well presented with practical examples and deep thought-provoking activities and assignments. Facilitators focussed a lot on practical application of the philosophical threads in our spiritual lives. I really appreciate the way classes were conducted with students involved through break out room activities and group discussions. Thus, studying in this way in the association of devotees was the best experience. The support from teachers was tremendous. I found this to be an invaluable experience, and would thoroughly recommend it to others who wish to enrich their spiritual lives.
I would like to convey my heartfelt appreciation for your contribution in providing us with opportunity of getting spiritual education. I found your dedication for this cause so contiguous that everyone who comes in contact with you, would automatically become interested in pursuing it whole heartedly. In fact, all the faculty members of Bhaktivedanta Academy of Education Canada, being operated by ISKCON, Brampton, are experts in Vedic knowledge and provided the knowledge as received from Vedic literature without any deviation but relating the same with examples from practical life. This makes even the most complex subject look so simple to understand.The presentations made for each class were so well made that they have become our treasured possession to refer in future. I congratulate ISKCON Brampton for having such a dedicated team of devotees who not only manage all the temple activities but also impart Vedic knowledge to so many aspiring devotees. I wish and pray for your continued success in all efforts of bringing more and more people to Krishna Consciousness.
"The parenting seminar was very valuable to us as young parents, specially coming from experienced devotees like mother Uttama and mother KrsnaNandini. Mother Uttama's clarity in facilitating the seminar and learnings from her experience were amazing. Mother KrsnaNandini, is an example of multi-faith coexistence in the same household and raised many beautiful Krsna Conscious children. It was very encouraging to hear the firsthand testimonial from one of her children during the seminar. There was so much to learn from the group discussions and takeaways from the seminar that has helped us tremendously since."
I recently attended the seminar titled "Guiding our children towards Krishna" organized by Bhaktivedanta Academy of Education that gave me the different aspects of parenting. It was perfectly laid out by speaker HG Uttama Mataji and HG Krishna Nandini Mataji. It gave me some essential parenting tips to connect more with my children. I learn that there are many ways to handle situations besides negative punishment and how I can motivate and engage my kids in Krishna conscious activity. I appreciate the opportunity given for sharing our thoughts. I highly recommend this kind of seminar for any parents. I really benefited from it and am looking forward to attending more of this in future. These kinds of seminars are a great investment in our children and our relationship with them.